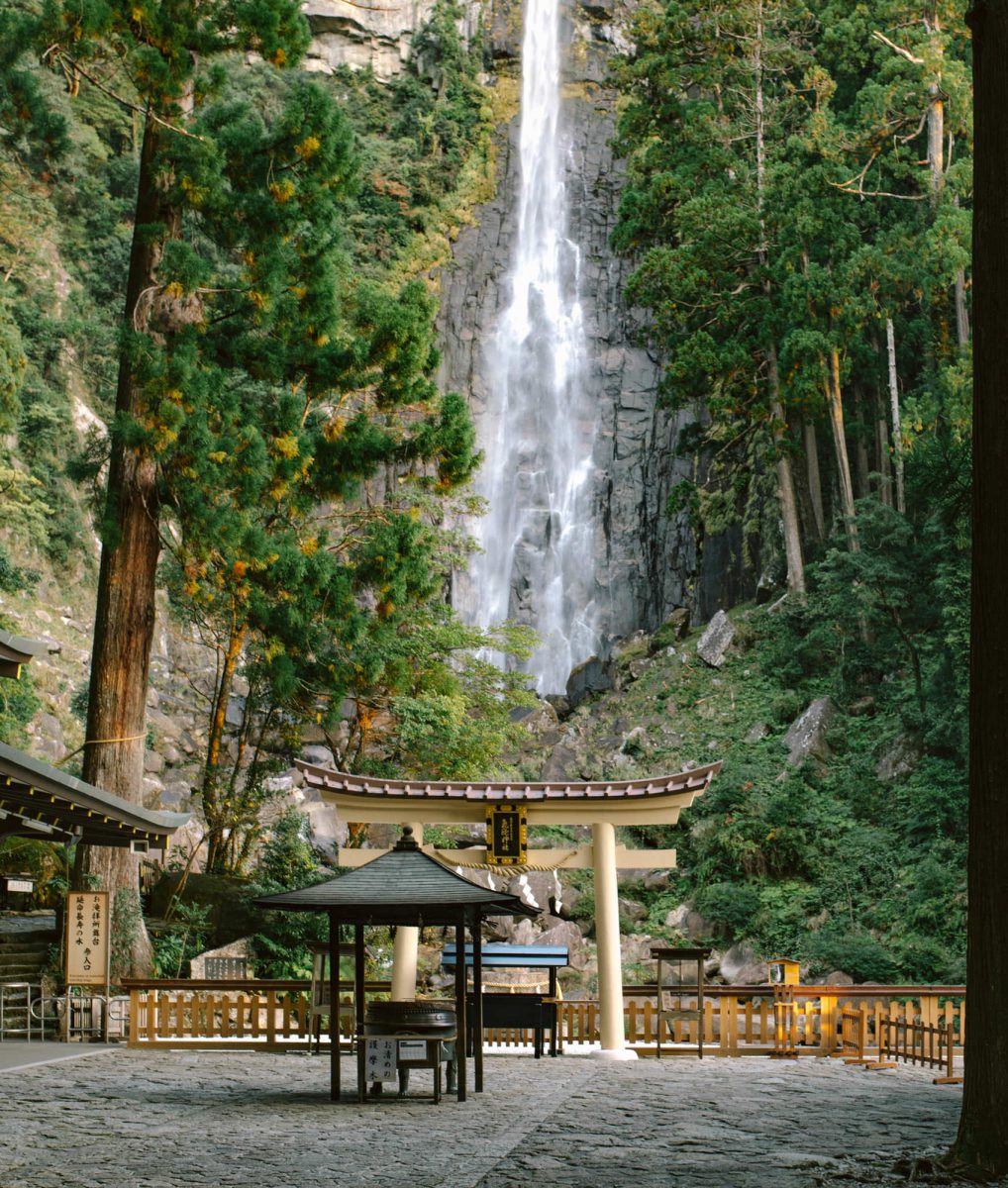 [AREA] Nachisan
Nachi Waterfall
A cool breeze caressing your cheeks, taking one step beyond the Torii gate, the fresh air will give you a sensation of awakening and purification. One step at a time, you will consciously walk up the stone stairs surrounded by tall trees on both sides. From glimpses of spray in-between the trees, Nachi Waterfall, one of the three great waterfalls of Japan, will slowly reveal itself.
A great waterfall with a 436 ft (133m) vertical drop and a 33 ft (10m) deep basin. It is stated in the Kojiki (the first written record in Japan) that the waterfall was enshrined by Jimmu-Tennô (the legendary first emperor of Japan), attracting pilgrims since ancient times as one of the central locations of the Kumano pilgrimage. As the first fall (Ichi-no-Taki) in the 48 falls of Nachi scattered across the Nachi Primeval Forest, the location has been visited by practitioners of waterfall meditation and training for about 1300 years.
Going beyond the path and approaching the waterfall, you will be met with the splashes from the waterfall carried along by a cool breeze; a moment in which you will be able to appreciate with your whole body what makes the great waterfall "great" and truly understand why it is a place of worship. Along the way is a sacred spring believed to be beneficial for a long and healthy life, and you can also drink the fresh water from the waterfall's basin.
Nachi Waterfall symbolizes both the Kumano Forest in which water flows abundantly and the Kumano pilgrimage which is so deeply rooted to nature. We recommend visiting this location on sunny days for the beautiful contrast but also on rainy days and in the early mornings for a sense of tranquility.
Nakahechi/mountain
Spot information
30 minutes by Kumano Gobo Nankai bus (bound for Nachisan) from Kii-Katsuura Station, get off at Nachi-no-Taki-mae, and 5-minute walk from there (go down the stone steps.)
25 minutes by car from the entrance / connection point which leads national road 42 to prefectural road.
There is a parking lot (requires fee).

Admission Fee: Free

<Waterfall Worship Place>
Visit Time: 7am~4:30pm
Adult: 300 yen, Ages 15 and under: 200 yen
Group (over 30 people):280 yen per person
Discount for a person with disabilities (If Certification for Persons with Disabilities is presented at the reception, the person with disabilities and a person comes along with will pay 200 yen each.)